Post by Scully on Mar 2, 2020 12:12:55 GMT -6
Country Music Star and Philanthropist, Tracy Lawrence, Makes An Appearance on Circle Network with Mission:Possible Check Presentation and Achieves Radio Affiliate Milestone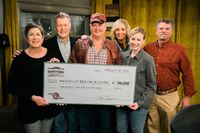 From L-R: Cheryl Chunn (Senior Director, Major Gifts, Nashville Rescue Mission), Bill Cody (Host, Coffee, Country & Cody), Tracy Lawrence, Becca Lawrence, Jo Smith (Co-host, Coffee, Country & Cody), and Billy Eldridge (Senior Director, Operation, Nashville Rescue Mission). Photo credit: Timothy Hiehle
CLICK HERE TO SHOP TRACY LAWRENCE...
Country music mainstay and avid philanthropist, Tracy Lawrence, appeared on the Coffee, Country & Cody show on the Circle Network on February 18th ahead of his Grand Ole Opry performance that evening for a special check presentation and received a surprise himself.
The appearance, which aired on both 650 WSM and TV broadcast on the Circle Network, featured a check presentation of an impressive $115,000 to the Nashville Rescue Mission. The funds were raised during Lawrence's annual Mission:Possible Turkey Fry & Concert charity event held on November 26th in Nashville, TN.
In addition to the amazing monetary gift, Tracy himself was surprised with a plaque for reaching over 115 radio affiliates for his Honky Tonkin' Radio Show.
"It's been a longtime passion building Mission:Possible to host different events in multiple states to help people in need. I am humbled to be in a position to provide anything that has impact on important organizations like the Nashville Rescue Mission. And, apparently 115 is a magic number today! To pass the 115 radio affiliates is an amazing milestone, just to know we are reaching so many fans on a weekly basis. I was completely shocked by that surprise!," says Lawrence.
Currently Tracy can been seen co-headlining the "Late Nights and Longnecks Tour" alongside Justin Moore which kicked off earlier this year.
ABOUT TRACY LAWRENCE:
One of country music's truest traditionalists, Tracy Lawrence has sold more than THIRTEEN MILLION albums and has charted EIGHTEEN No. 1 songs. He has garnered numerous CMA and ACM awards and nominations, as well as a Grammy nomination. Most recently, Lawrence released his latest album, MADE IN AMERICA. The album is a milestone for Lawrence – penning 8 of the 12 songs featured on the album.
Lawrence's last studio album, 2017's critically acclaimed, GOOD OLE DAYS, hit the #1 position on the iTunes Country Chart. In addition to his chart-topping success, Lawrence hosts the Award-Nominated nationally syndicated radio show "Honky Tonkin' With Tracy Lawrence," for which he has received two ACM nominations for National On-Air Personality of the Year. The show features music from the 80's, 90's and 2000's and is heard on more than 115 affiliates. Tracy is also the co-creator of STORMING HEAVEN: THE MUSICAL, a production based on the novel Storming Heaven. Tracy, along with others, helped to develop the storyline of the musical and also composed songs for the drama. He was honored by the Nashville chapter of AFP (Association of Fundraising Professionals) with "Philanthropist of The Year" for his nationally recognized annual MISSION:POSSIBLE Turkey Fry and Concert, which has raised over Half a Million Dollars for the homeless and hungry in Dallas, Louisville and Nashville, and served more than 84,000 meals. MISSION:POSSIBLE is poised to make an even larger impact in the future, as the 501 ( C ) (3) organization expands into more markets across the country.